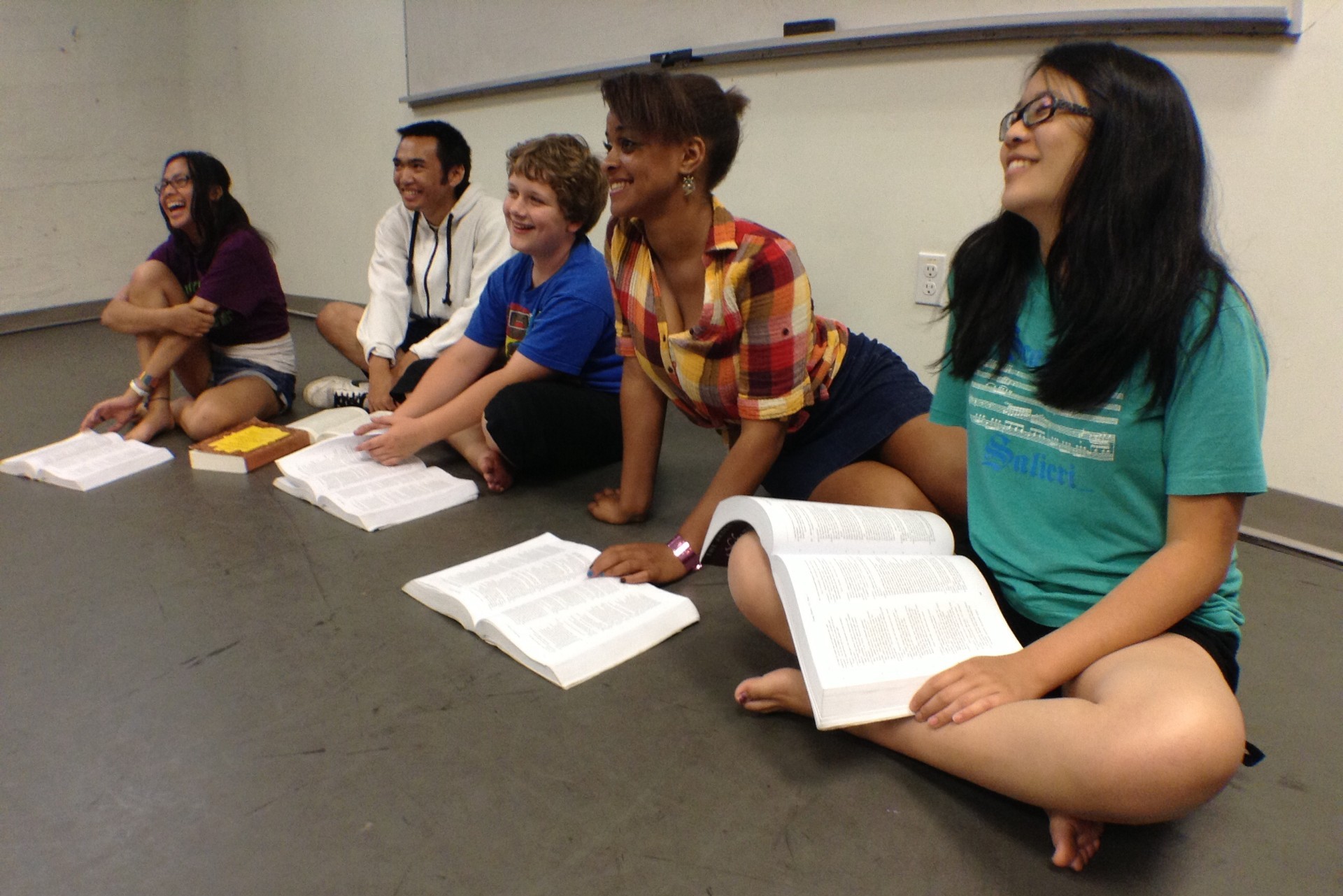 "We are an unlikely bunch with wildly divergent personalities and background stories who otherwise might never have met, let alone come together as an ensemble.  But we have forged a community, and at its heart is unwavering acceptance of each other as we explore different ways of expressing the text and ourselves.  Not only has the workshop helped me find the power in my voice, it has taught me how to stand with confidence, and above all, how to be with conviction." – Alice
Seven weeks of rigorous instruction in text, acting, voice, fencing — a crash course in some of the greatest poetry ever written.
In daily three-hour classes grapple first-hand with the meanings and complexities of Shakespeare's words, expand the range and clarity of your voice, and learn to fence with rapier and dagger.  At the end of seven weeks a public recital is presented at the Broadway Performance Hall or the Erickson Theatre on Seattle's Capitol Hill.
HOW TO JOIN US:
No previous theatre experience is necessary. Experienced participants are also welcome.
All coursework is tuition free.
Audition/interviews are very low key.  Interviews for Summer 2023 can be scheduled by email.  For the audition, you should have memorized a short bit of text from Shakespeare or you can read from selections provided.  It needn't match your age or gender. Choose something you like. Please provide a current photo, if available, doesn't need to be professional or glamorous (a snapshot is fine, it just needs to look like you).
To apply: 
youngshakespeareworkshop@yahoo.com (this will be more direct than through website)
Classes will be held at Cornish College of the Arts for summer 2023.
First Year Student Summer 2023 Class Schedule
July 5 through August 20
Monday
Text
3-6pm
Tuesday
Voice & Fence
3-6pm
Wednesday
Text
3-6pm
Thursday
Voice & Fence
3-6pm
Friday
Text
3-6pm
Note: In the final week, we may lengthen class time to as much as six hours a day.
Weeks One and Two: Sonnets
Weeks Three and Four: Speeches
Weeks Five and Six: Scenes
Week Seven: Preparation for recital.